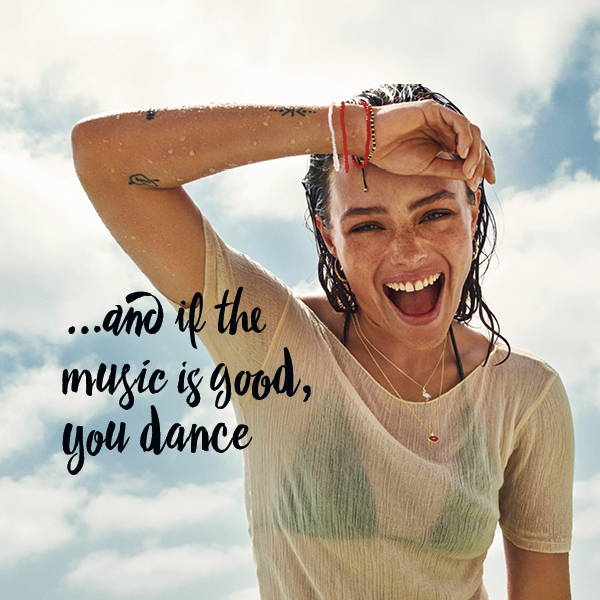 Festival Forever
Summer, sun, rhythms across stages, ice cold drinks and FASHION, FASHION, FASHION. That is the epitome of the festival season when we rock to our favourite music and party until the sun rises. An ideal festival outfit naturally craves beautiful jewellery, and luckily this summer's trend will match rock 'n' roll perfectly. Dance your way through the text and have a read about this summer's trends and how you best take care of your festival jewellery.
Festival outfits
When you are going to a festival, ideally your outfit must convey rock 'n' roll. And luckily rock 'n' roll matches this summer's jewellery trend, which dictates large jewellery. For instance long earrings, creoles, flashy necklaces, large rings with lots of decoration and a pretty ankle bracelet. A trendy festival outfit is often simple, consisting of a great pair of jeans, a tank top and a pair of fashionable wellingtons, boots or sandals – dependent on the summer weather. In short: The perfect outfit for large jewellery, which will jazz it all up and give your festival outfit a finishing, fashionable touch.
---
Do you like gold or silver more?
Most women swear to either gold or silver plated jewellery. The materials are beautiful in their different way, but as is the case with the colours black and white, they can bring out different expressions and each suit some styles and outfits better than others. To make it easy for you, you can search on one material at a time at pilgrim.dk. That way you can easily survey our jewellery selection within the two categories.
---
Take care of your jewellery
Jewellery from Pilgrim is always made from pure materials. That way you can safely wear them and you don't have to worry about allergies and hypersensitivity. All our jewellery is always free from lead and nickel – it is made on a base of zing and brass, while the metal stick going through your ear always is made from surgical steel. The jewellery is plated with gold or silver. Accomplished craftsmen, who care about quality and pay attention to detail, are the ones making pilgrim's jewellery. If the festival has been a bit rough to your jewellery, the best way to clean them is to use a soft cloth and wipe them off thoroughly so that sweat, rain, perfume or other chemistry from your skin don't ruin the materials. Get more tips to take care of your favourite jewellery right here.
---

Do you want to be the first to know, when new collections arrive? Then sign up for our newsletter now and receive inspiration, jewellery guides, news, sales offers and 10% off your next purchase.
---